The 4th Annual Stevie Awards
for Women in Business

Destination Graphix is a 2007 Finalist for Marketing Campaign
of the Year!
Driving Success by Design™
Destination Graphix is your resource for professional graphic design, web site design and maintenance, and marketing services. Creating a business identity, web site or marketing campaign, are all crucial to your business success. Our award-winning marketing design firm knows what is important artistically and editorially in all your Identity, Advertising, Packaging, Publication and Web Site design needs. We have long-term relationships with many clients including entrepreneurs, small business owners, medium-sized businesses and government entities. From designing your logo, printing your business cards and developing marketing strategies, campaigns and collateral pieces (such as brochures, sales sheets, catalogs, press kits and direct mail), Destination Graphix is Central Texas' choice to Drive Success by Design™. We also assist many clients with expanding their business identity, marketing and profitability to the Internet offering a host of web site services.
If you haven't already clicked on the boxes above, please do so now. Each box; design, branding, marketing, target–direct and copywriting are key elements to more than graphic design or web design. They are necessary components that build upon one another for your marketing and business success. That's what we call Driving Success by Design™.
What's New at Destination Graphix?
Twitter Take Off Package.
Order Now - 30 day promotion!
Affordable Web Site Packages available!
Need a Web Site?
Need a web site? Don't know where to start? Destination Graphix offers affordable web design solutions. Choose one of our cost-savings packages or create your own from our menu of web design services. Web hosting, logo design, web site strategy and conceptualization, content writing and editing, e-commerce cart, feedback forms and more are available to meet your unique needs.
Affordable Web Site Design...
Visit our NEW sister web site devoted entirely to Web Site Solutions
www.austinwebsitesolutions.net - your source for Web Design, Web Hosting, Web Content, SEO Consulting, and affordable Web Site Support and Maintenance for existing web sites.
"Destination Graphix is awesome! Owner and creative director Gabrielle Melisende has the ability and skill to take your ideas about your business and transform them into wonderful marketing materials. Her graphics and ad designs are amazing!"

Leslie P. Mouton, LUTCF
Farmers Insurance and Financial Services
www.farmersagent.com/lmouton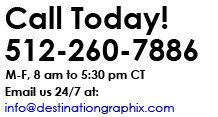 Exclusive Advertising Opportunities with Destination Graphix
The View at Crystal Falls
Crystal Falls HOA
(quarterly)

Guide to Leander
Destination Graphix
(online 24/7)

Specialty Publication Design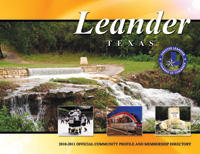 2010 Community Profile & Membership Directory
Greater Leander Chamber

Eye On Leander™
Leander Business Circle
(bi-monthly)
Destination Graphix wins two design awards for the Greater Leander Chamber Directory

American Inhouse Design Award from Graphic Design, USA

First Place Media Award from the Texas Chamber of Commerce Executives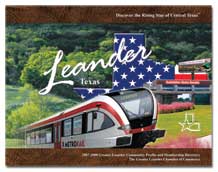 Art & Editorial direction
by Gabrielle Melisende
"Destination Graphix has raised the bar for Directory publications."

Vic Villarreal, Ph.D.
Leander City Council
Destination Graphix wins a 2008 American Inhouse Design Award for its "2007-2008 Greater Leander Chamber of Commerce Community Profile & Membership Directory" publication and will be featured in Graphic Design USA's Inhouse Awards Annual (July 2008).